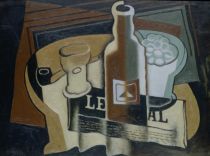 GRIS, Juan 1887 - 1927
The Gueridon
1921
oil on canvas, 46.0×61.0 cm
signed and dated l.l.
L'Art Espagnol Contemporain, Musée du Jeu de Paume, Paris(1936)
O01102
The National Museum of Modern Art, Tokyo
Provenance
Galerie Simon, Paris; Raoul Michaud, Paris; Vente Sotheby's, Londres, 12 juin 1963, no. 105 (repr.); Perls Galleries, New York; Dr Bernhard Sprengel, Hanovre; Private collection; Purchased by the MOMAT, 2000.
Exhibition History
| | |
| --- | --- |
| 1936 | L'Art Espagnol Contemporain, Musée du Jeu Paume, Paris |
| 1937 | L'Art Espagnol Contemporain, Stockholm |
| 1955 | Juan Gris, Kunstmuseum Bern, Bern |
| 1960 | Cent Tableaux de Collections Privées, Galerie Charpentier, Paris |
| 1990 | Cubism, Fuji Television Gallery, Tokyo, 1990/9/11 - 1990/10/5 |
| 1991 | 100 paintings : Spanish art in the 20th century, Mie Prefectural Art Museum, Tsu, 1991/10/5 - 1991/11/4 |
| 1991 | ヨーロッパ近代絵画の流れ, Urasoe Art Museum, Urasoe, 1991/2/1 - 1991/3/31 |
| 1996 | 親と子でみる20世紀美術展, Akita Senshu Museum of Art, Akita, 1996/11/2 - 1996/12/8 |
| 1996 | 親と子でみる20世紀美術展, Kagoshima City Museum of Art, Kagoshima, 1996/7/16 - 1996/8/11 |
| 1996 | 親と子でみる20世紀美術展, Shimane Art Museum, Matsue, 1996/8/16 - 1996/9/16 |
| 1996 | 親と子でみる20世紀美術展, Kure Municipal Museum of Art, Kure, 1996/9/21 - 1996/10/27 |
| 2002 | The Unfinished Century: Legacies of 20th Century Art, The National Museum of Modern Art, Tokyo, Tokyo, 2002/1/16 - 2002/3/10 |
| 2007 | Living in the Material World: "Things" in Art of the 20th Century and Beyond, The National Art Center, Tokyo, Tokyo, 2007/1/21 - 2007/3/19 |
| 2012 | Art Will Thrill You!: The Essence of Modern Japanese Art, The National Museum of Modern Art, Tokyo, Tokyo, 2012/10/16 - 2013/1/14 |
| 2013 | Le Corbusier and 20th Century Art, The National Museum of Western Art, Tokyo, Tokyo, 2013/8/6 - 2013/11/4 |
Bibliography
| | |
| --- | --- |
| 1977 | Juan Gris : catalogue raisonné de l'oeuvre peint, Berggruen |
| 2003 | Juan Gris, dessinateur de presse : de Madrid à Montmartre., Éditions Louise Leiris |
| 2014 | Juan Gris : catalogue raisonné de l'oeuvre peint : Catalogue Raisonné of the Paintings, Alan Wofsy Fine Arts |
Works by this artist
The Gueridon, 1921, The National Museum of Modern Art, Tokyo
A Book Concluding With As A Wife Has A Cow : A love story by Gertrude STEIN, 1926, The National Museum of Modern Art, Kyoto